Leapfrog geo 5.X : Geological modelling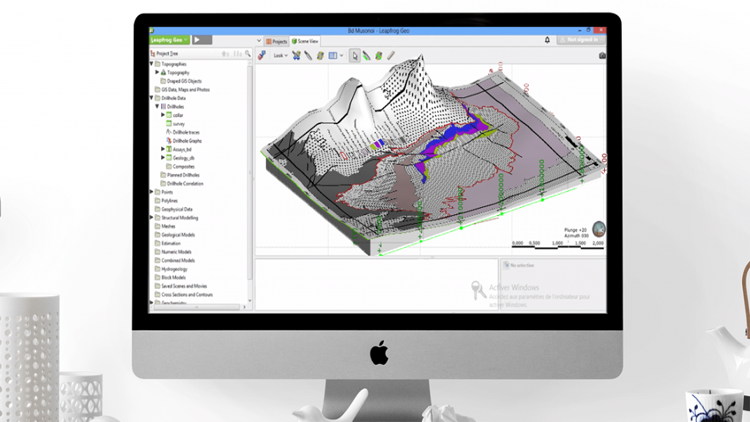 About Course
Would you like to enjoy Leapfrog geo, one of the powerful mining software?
Do you want to master a mining skill that pays well? Know how to model an ore deposit?
Then what you are going to read below will interest you.
Leapfrog geo is a mining software that is more appreciated by geologists managers this last time. Because, it's the rare software that quick geo-ressources processes comparing to others softwares that make boring this task.
Modelizing has never been simplest as it's the case with Leapfrog geo. With previews softwares, doing geological modelling requiere all these boring processes
Creating geological database,
creating sections,
digitizing mineralized zones on everyone sections,
cleaning string generated by digitizing,
creating solidmodel from string,
validating solidmodel,
Generating solidmodel limits (northing, easting and elevation),
creating blockmodel.
This is too boring, toaday with Leapfrog geo all we need is to create a geological database. Modelling will be the matter of some couples of clicks only. Because Leapfrog geo is using implicit modeling, this methode allow you to generate streightly geological model without loosing your time.
Implicit modelling has solve the problem of modelling smalest geologicals layers because in a normal time, this seems to be impossible, with leapfrog geo this task is behind us.
If you're geologist or mining engineer, Maybe right now, you would like to benefit from these same advantages. You want to learn Leapfrog geo and master 3D geological modelling but you don't know where to start.
This training is made for you, it will teach you this skill in a easy way, step by step for you to master everything. It is practical and modulated in a way that you can quickly and easily acquire this skill.
Show More
What Will You Learn?
Create topographic surface, georeference a map and overlay a map to a topographic surface

Create geological database, display drillhole and manipulations

Create stratigraphics sequences

Create a MNT

Model géological  layers and determine volume for each one

Determine volume for each layer and MNT
Course Content
Create project, Import point & create surface
Create geological database
Create blockmodel, Stratigraphic surface and model layer
Student Ratings & Reviews
No Review Yet